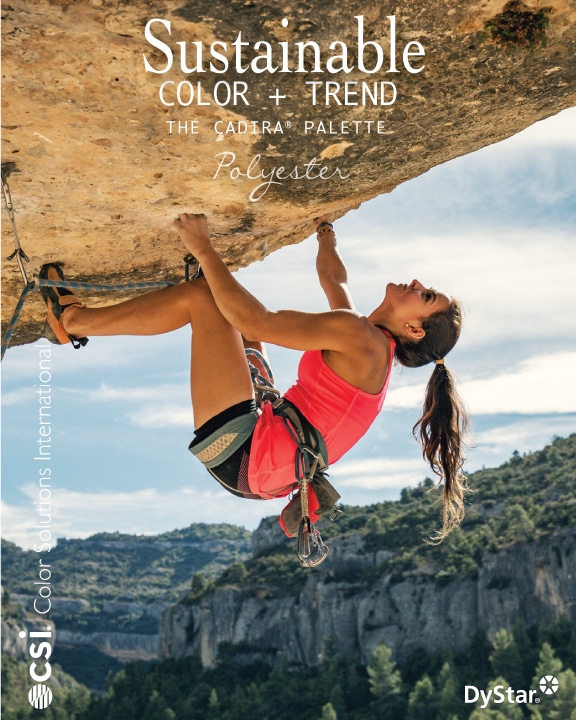 18 Sep

DyStar and CSI launch their Sustainable Color and Trend magazine

September 18, 2017 – As a combined effort of the CSI color team and DyStar's technical experts, DyStar and CSI are launching the first 2 issues of the Sustainable Color and Trend magazine with Cadira® color palettes. This new magazine inspires Designers and Color Managers by offering palettes and color combinations that are Eco-friendly and Inspired by Nature. Not only does the magazine include a wide range of color palettes, but also color validation in CSI's Relative Color Popularity (RCP) information as well as sustainable dye recipes that have been formulated based on the Cadira resource optimization process.

The Cadira Concept is a module in DyStar's Resource Efficiency program. It helps to considerably shorten lead times and reduce water, waste and energy consumption. Cadira Concepts have been developed for different substrates and dyeing procedures. This launch focuses on both reactive dyeing of cotton as well as polyester & recycled polyester dyeing.

The reactive-issue – Inspired by Nature – offers color palettes with softer, muted tones, levels of neutrals and earthy shades of green. The recipes are based on DyStar Levafix® and Remazol® combined with Sera® chemicals for an optimized dyeing and wash-off process.

The Polyester issue offers more vibrant color options with saturated colors and brights for active wear and outdoor clothing and accessories. The recipes are based on Dianix® dyes and the dyeing process can be optimized by use of the Optidye® PES program.

"We are conscious about our environment so we wanted to create a magazine with an ecological color and optimized processes so that our customers can pick the right color that will help them reduce their environmental impact in the design process." Says Ron Pedemonte, VP of Sales and Marketing Americas.

CSI will focus more on color palettes with ecological dyes and low impact processes when offering color and trend information to customers in the future. More eco-friendly color palettes will be available very soon!